A life without passion is a life without direction
Discover your main passions
Set the course for a purposeful, joyful life
NEXT PASSION TEST WORKSHOP IN
January 28, 2022 @ 10:00 (10:00 AM) CET
Feeling stuck, flat, or overwhelmed? Like you're disconnected from your own life?
You have dreams and ideas, but you don't know how to pursue them. You know that you're not living up to your full potential because you're so busy with the day-to-day that there's just no time for that!
Some days feel like you're running on auto-pilot and you wonder if you're missing something. That extra piece that others seem to have when they look radiant after a full day of work.
Instead, you look forward to those 2-week holidays. You wake up on Monday morning wishing it was Friday evening…
Deep down, you know it's time to step back and reevaluate your life… But how can you make the right choices if you don't even know how to set the right course?
You see, not following your passions in life can feel like you're lacking direction. 
A passionate life, on the other hand, means…
Life feels easy when you're living in alignment with your passions.
But you didn't come to this world with a handbook. As we grow up, our responsibilities grow, and it's easy to get too busy to even think about passions — let alone live them.
That's why I'm here to help you transform your life just like I've helped many achieve the same.
The Passion Test Workshop helps you discover your main passions and learn how to implement them, so you can start living the wonderful, colorful life you deserve.
After being diagnosed with breast cancer in 2012, taking the Passion Test helped me recover hope. But not just hope…
Understanding my deeply rooted passions, what my true purpose is, allowed me to discover a future I didn't even know I wanted.
Now I live a fulfilling, purposeful life helping women worldwide discover their passion and lead the incredible lives they deserve.
If you're ready to start living your best life, I'm here to show you how.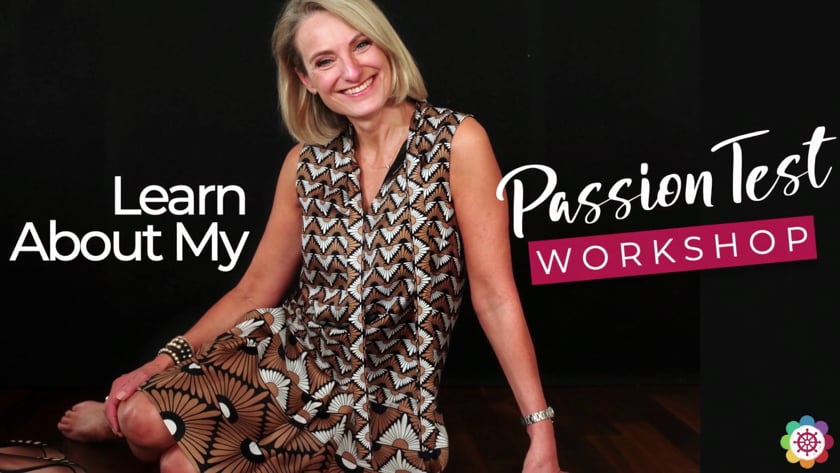 What you'll learn in the Passion Test Workshop
This Workshop is Life Changing
The Passion Test Workshop brought me to a point of knowing how to move forward and where to focus in life. It is important to find a way to change what's holding us back and limiting us. The Passion Test Workshop gave me the courage to quit my job and focus on my passion - writing a book! Catherine is an inspiration; I admire her for all that she went through and all we shared during the workshop.
The Passion Test Workshop made me realize what is important to me. I now understand why I have internal tensions because the workshop helped me reconnect with myself and my passions. Catherine helped me become conscious of my limiting beliefs and she provided me with the tools that I now use to make positive changes in my life. My advice to everyone is: work on your happiness right now, because you have only one life! Make time for yourself.
The Passion Test Workshop allowed me to meet other women with their own "backpacks": worries, struggles, and hurries. My biggest takeaway was understanding that I should not hide my passions. The Passion Test Workshop changed my life because I now know what actions and decisions to make to favor my happiness.
I experienced great positive energy during the Passion Test Workshop. Catherine is a wonderful, pretty, intelligent, trustworthy person with a great heart and a professional approach. My biggest a-ha moment was realizing that my priorities when it comes to passions are different from what I expected. I recommend the Passion Test Workshop to anyone who might be on the fence, as it will help you become more fulfilled and happy in life.
Catherine is inspiring and brings out the spark in me! The Passion Test Workshop is honest and motivating… Because of it, I realized that the changes I needed are not so hard to make. My biggest takeaway was to put MYSELF first! In the end, discovering my passions was about self-love for me.
The Passion Test Workshop Includes: 
Weekly 2-hour group Zoom sessions (2 sessions)
Find out what your main passions in life are and how you can start living them.
Your Passion Test results 
to know exactly how you rank your passions and which ones you can start pursuing right away.
The Passion Test Playbook 
to understand what actions you need to take to transform your life.

so you can keep your passions front and center as your key pillar for decision-making.
After the Passion Test Workshop, you will feel energized, happy, and expansive. Get ready to take the wheel of your whole new life.
Today, it's your turn to put yourself first.
Jasmine went from stressed, burned out, and struggling to wake up in the morning to brilliant business owner living the life of her dreams. Watch her transformation.
When you are clear, what you want will show up in your life and only to the extent that you are clear."
Author & Passion Test Creator
FREQUENTLY ASKED QUESTIONS
Who is the Passion Test Workshop for?
The Passion Test is for women who are looking to understand themselves better and find their true purpose in life.
How much time do I need to take the Passion Test Workshop?
First, you'll need to complete a short pre-workshop questionnaire so I can determine how to best help you. Our weekly group Zoom calls will be 2 hours long. Other than that, the time you take to start implementing your passions will be completely up to you.
When is the next Passion Test Workshop?
A: In 2022, the Passion Test Workshop dates are:
January 28th & February 4th, 2022 10.00-12.00 CET
Do I have to have cancer to join the Passion Test Workshop?
While many of my clients are battling cancer, it is by no means a requirement to join my Passion Test. In fact, one of the best times to find your passions is when you're healthy so you can prevent any health issues down the road.
Can I take the Passion Test Workshop from anywhere?
Yes! All the Workshops are offered in English and French, and you can join from anywhere in the world.
I've already done the Passion Test Workshop… Can I do it again?
Absolutely! In fact, I always recommend that you take a second Passion Test after 6 months to a year. This will help keep you accountable in pursuing your dreams and let you adjust your passions as you continue to grow in life.
I've taken the Passion Test Workshop, now what?
If you want to further your learnings after the Workshop or you need help implementing your passions in the day to day, you're welcome to join my 7-week group coaching program, Live Your Passions, or book a call to find out how I can support you with 1:1 coaching.
What happens if I book my place and then can't attend?
We understand that life can be unpredictable at times! As long as you are able to give notice 24 hours prior to the first Passion Test Workshop session, we will reschedule you and save a spot in one of our next Passion Test Workshop dates (to be chosen by you). If we cannot find a convenient time, you will receive a full refund.
We offer full refunds if notice is given at least 24 hours prior to the first session of the Passion Test Workshop. However, if you have booked your place and are questioning your decision, we encourage you to ask yourself why these doubts are appearing now. Oftentimes we sabotage our own happiness by skipping the things we need the most. If you're struggling to decide, feel free to book a free call with me and let's talk about it!
Yes! I Want to Discover my Passion!
2 weekly 2-hour group Zoom sessions
with Catherine Schopfer
and you will both receive additional 15% OFF
Passion Test Workshop Registration